---
Please Note... Orders are now being processed manually, please forward your order to Ian at: idskennerton@hotmail.com : Visa & MasterCard accepted
Postage rates recently increased; air mail only from USA and Australia now, as sea mail has been discontinued.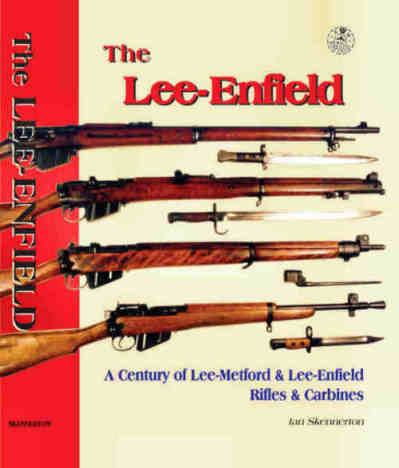 'The LEE-ENFIELD' Skennerton
A Century of Lee-Metford & Lee-Enfield Rifles & Carbines. Hard cover, 11¾ x 8¾ in., 608 pp, 1,200+ illust., dust jacket, 2007. ISBN 978 0 949749 82 6.
The final, updated successor to 'British Service Lee' and 'Lee-Enfield Story'. New chapters include Serial Numbers, Hybrids, Components Evolution, Ammunition, &c. Enlarged index, also features red, white & blue ribbon markers. US$79.50, A$99.00, plus p&p

'BRITISH SMALL ARMS OF W.W. 2' Skennerton

LOW STOCK, NONE IN U.S.A.


The Complete Reference Guide to Weapons, Maker's Codes & 1936-1946 Contracts.
Hard cover w/ dust jacket, 9½ x 6 in., 110 pages, 36 illustrations, 1988. ISBN 0 949749 09 5.
An invaluable reference extracted from Ministry of Supply ledgers. US$30.00, A$35.00 plus p&p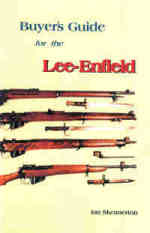 Out of stock in Oz, only in US
'BUYER'S GUIDE to the LEE-ENFIELD'
New Pocket book. Skennerton
Limp cover, 8 in. x 4½ in., 48 pp, 65 illust., 2008. ISBN 978 0 949749 89 5.
Two-colour print, pocket-book, ready reference out & about. With chapters on Ready Identification, Where to Buy, Condition Essentials, Accessories, Fakes, Markings, Serial Nos, Production Figures, Using the Internet, Collecting or Shooting, &c. US$15.00 plus p&p, out of stock in Australia.

'A TREATISE ON THE BRITISH MILITARY MARTINI– Vol. I, .450 Martini-Henry., 1869-c.1900' Temple & Skennerton

RETAIL ONLY


Hard cover, 11 x 8¾ in., 256 pp, 114 illust., dust jacket, 1983 (2nd printing 1996). ISBN 0 9596108 8 X.
This 2nd printing features better quality art paper and illustrations, serving to enhance what was already the standard reference work on these renowned British Empire and Colonial service .450-in. bore breech- loading rifles and carbines. US$75.00, A$77.00, plus p&p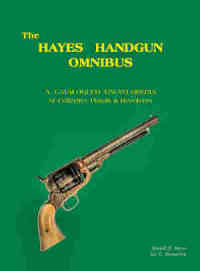 'HAYES HANDGUN OMNIBUS'
Catalogued Encyclopedia of Collective Pistols & Revolvers. Hayes & Skennerton
Hard cover, 11¾ x 8¾ in., 592 pp, 3,550 colour illust., dust jacket, 2007. ISBN 978 0 949749 83 3.
This full-colour presentation is arranged from A-Z... Australasia, British, Colt, Demonstration Cut-away, Enfield, Free Western Europe, Germanic, High Standard, Italy, &c. to Zuid Afrik Republic. US$30.00, A$35.00, plus p&p

'A TREATISE ON THE BRITISH MILITARY MARTINI– Vol. II, .40 & .303 Martinis, 1880-c.1920' Temple & Skennerton

RETAIL ONLY


Hard cover, 11 x 8¾ in., 213 pp, 135 illust., dust jacket, 1989. ISBN 0 9596108 6 3.
The 2nd volume in this 3-part series, the trials Enfield- Martini and subsequent .303 converted rifles and carbines are thoroughly detailed. The .303 Martini was essentially a reserve grade arm in the British service but a front line issue to Colonial forces. US$75.00, A$77.00, plus p&p

'.577 SNIDER-ENFIELD RIFLES & CARBINES' Skennerton
British Service Longarms, 1866-c.1880.
Hard cover, 9½ x 6 in., 240 pp, 8 colour plates, 100 illust., dust jacket, 2003. ISBN 0 949749 47 8. Britain's first breech-loader converted from Enfield muskets, then new-made with Mk III breech shoe. Trials, development, rifles & carbines are detailed with cartridges, new data on models and accessories. Appendix has Snider correspondence, a glossary and comprehensive index. Deluxe presentation with red ribbon marker. US$39.50, A$45.00, plus p&p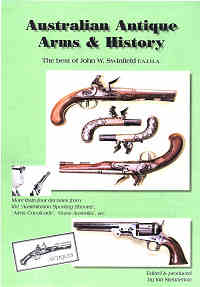 AUSTRALIAN ANTIQUE ARMS & HISTORY - The best of John Swinfield
Edited & Produced by Ian Skennerton
Hard cover with dust jacket, 312 pages, 12 x 8½ in. A4 size, 500 photos including 8 colour plates.
Published in 2009, ISBN 978-0-949749-97-0.
From 1960, John was columnist for the 'Sporting Shooter' and then 'Guns Australia' periodicals. Also a record of collecting in Australia, the personalities, shows and so much more. Quality production on art paper with a heavy-duty jacket.
A$39.50 plus p&p, deceased estate sale
'The ENFIELD .380 No. 2 REVOLVER'
Skennerton & Stamps
Hard & soft cover ed's, 9½ x 6 in., 126 pp, 80 illust., hard cover dust jacket, 1992. ISBN 0 949749 16 8.
British service revolvers were made by contractors, primarily Webley. But in the 1920s, RSAF production began and variants introduced; WW2 production was farmed out to Scotland's Albion works, a few were made by HAC in NSW, Australia during WW2 too.
A$33.00 hc, A$22.00 pb plus pack & post
OUT OF PRINT IN U.S.A.

See 'Small Arms Identification Series' page:
.303 Rifle No. 1, S.M.L.E. new reprint [SAIS #1]
.303 Rifle No. 4 new reprint [SAIS #2]
.303 Rifle No. 5 reprinted [SAIS #4]
.303 Lee-Metford & Lee-Enfield Rifles [SAIS #7]
.455 Webley No. 1 Revolvers new reprint [SAIS #9]
.303 Rifle No.3, P'14 & sniper variants [SAIS #10]
7.62mm L1 & C1 FAL Rifles new reprint [SAIS #12]
.450 & .303 Martini Rifles & Carbines [SAIS #15]
British Empire Cadet Training Rifles [SAIS #16]
7.62 L42A1, L39A1, L8& 2A Conversions [SAIS #18]
Australian S.M.L.E. Variations [SAIS #19]
.577 Pattern 1853 Enfield & Snider [SAIS #20]
British Empire Sniper Rifles [SAIS #22]
Lee-Enfield Parts Catalogue [SAIS #23]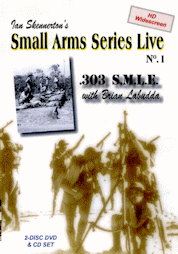 NEW SMALL ARMS SERIES LIVE
Skennerton

DVD & Resources CD 2-disc Sets
#1 - .303 SMLE with Brian Labudda
#2 - Rifle No.4 & No.5 with Brian Labudda
#3 - S.L.R., the FAL with Kevin Adams
#4 - Full On ~ Full Auto 1 (British & US MGs)
#5 - Full On ~ Full Auto 2 (German & Combloc)
See our new DVD-CD page...
DVD & CD sets, the new digital media which makes the reference books so much easier to understand and to remember.

Independent Digital Studio,
Filmed, produced & edited by Ian Skennerton
Check our new
Handbooks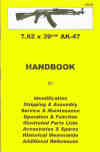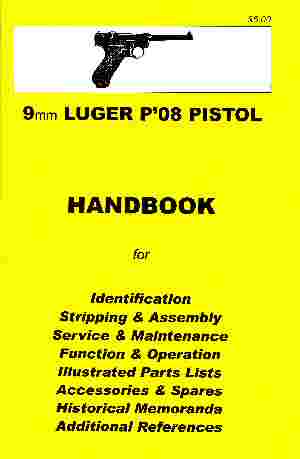 9mm Luger C96 Mauser Pistol

.45 M1911A1 9mm Walther P-38
12ga Win. Model 12 7.62mm Mosin Nagant
.30 US Model 1917 12ga Win. Model 97
5.56mm AR15 - M16 Model 1903 Springfield
M1, M1A1, M2 Carbine FN FAL (inch & metric)
.30 M1 Garand U.S. 7.62mm M14
7.62x39mm SKS 7.62mm AK-47
9mm Makarov 9mm Browning HP
Winchester Model 94 Mauser Rifles & Carbines
.303 S.M.L.E. No.1 .303 British No.4 Rifle
6.5mm T'38 Arisaka 7.7mm T'99 Arisaka
Jap Service Pistols Smith & Wesson Revolvers
Walther PP & PPK .22 Ruger Mk I & Mk II
.30 US Krag Carcano Rifle & Carbine
7.5mm MAS 36 Hi-Standard Pistols
Beretta Pistols Glock Pistols
7.5mm Schmit-Rubin Ruger Mini-14 .223
Ruger 10/22 Winchester Model 1892