New CDs with Images & Data...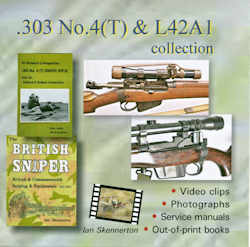 .303 No.4(T) & 7/62mm L42A1...
Out-of-print books at a fraction of the price resellers ask now!
Laidler & Skennerton - '.303 No.4(T) - An Armourers Perspective'.
'British Sniper' excerpts on the No.4(T) & L42A1, 'Collector' articles,
User Manuals on the L42A1 & L39A1, Parts Catalogue too,
Faris catalogue excerpts with folders of photos and video clips.
Books as pdf files, images as .jpg, video as MP4. $25 plus pack & post.
www.skennerton.com/bb.html
.45 De Lisle Commando Carbine...
Over 100 photos & pdf files of W.G. De Lisle with .22 prototype, early test models, Enfield RSAF & MOD Pattern Room samples including specimen stripped and disassembled at Nottingham, Warminster Museum examples include folding stock paratroop model, Sten Mk V & Mk VI for comparison. $25 plus pack & post.
New Out-of-Print and Rare books page...
See these one-off titles available on our new website page